'It really works': PL blown away by Angeball as 'breathtaking' move sums up Spurs rebirth
"We've got our Tottenham back," Spurs fans in the away end cheered on the weekend as Ange Postecoglou's side surged to a 5-2 win over Burnley.
But it was the final of their five goals that showed exactly what the Australian manager is trying to instil in his new side – and just how far they've come in a short space of time.
Cristian Romero won the ball on his own byline and instead of clearing it, he intelligently and confidently kept it in play with a prodded pass.
From there, Spurs delivered a sweeping 16-pass move before it was unleashed into the path of captain Heung-Min Son, who raced through on goal and slid it home for his hat-trick.
Stream Over 50 Sports Live & On-Demand with Kayo. Join now and start streaming instantly >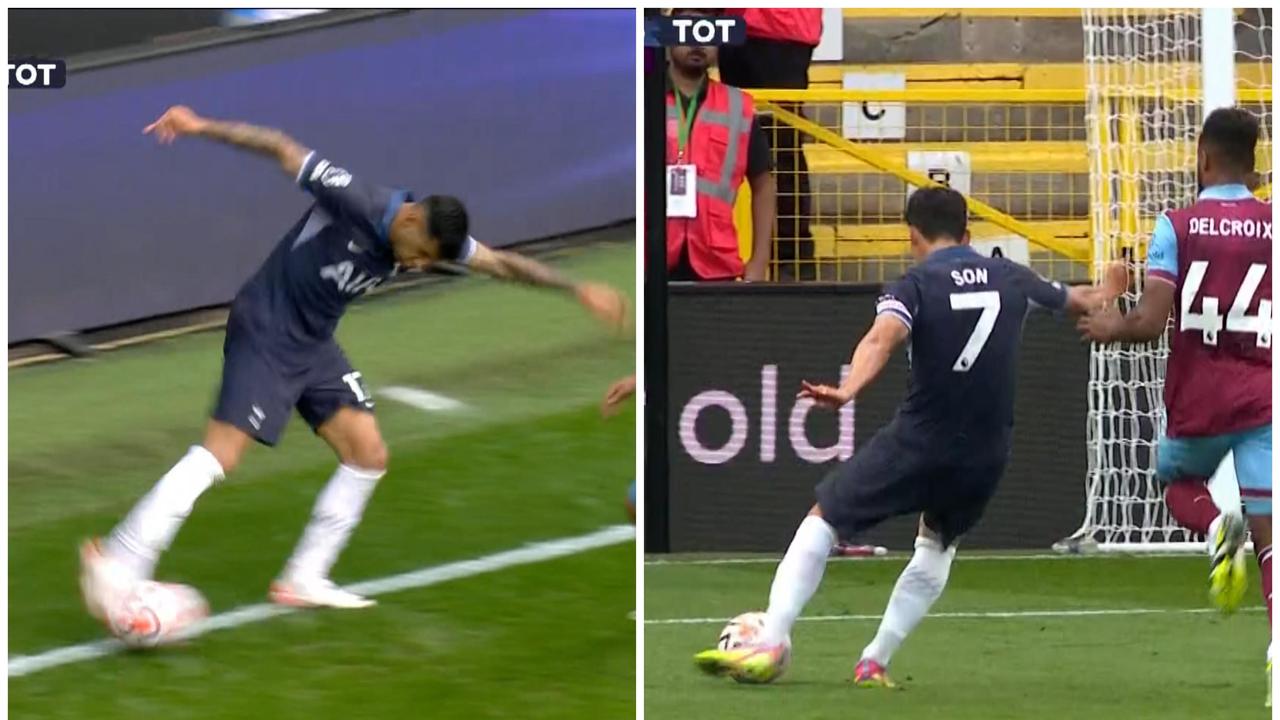 The ball was played from the right hand side of the box all the way to the very left flank at the halfway line, back to the central defence before moving to the right side for Pedro Porro to cut the defence in half with a sublime through ball.
Commentator Ian Crocker declared on the world feed: "A breathtaking hat-trick from Son. Tottenham hit the high five. They've all brought into Ange-ball and it works, it really works!"
"Tottenham look so dangerous going forward," co-commentator Paul Robinson said.
'I am so grateful': Star's touching tribute to Ange as fans and pundits rave
'Still at the beginning': Ange's bold declaration after five-star Spurs rout
It's not the first time Spurs have earned the chants 'We've got our Tottenham back', with fans singing the same in their 2-0 win over Bournemouth a week ago.
But after years of dour football under Jose Mourinho, Nuno Espirito Santo, and Antonio Conte, it's clear that the style has substantially changed. Postecoglou has delivered a return to the attacking approach that brought fans so much joy under the likes of Mauricio Pochettino – and the supporters are lapping it up.
Two huge fails, minnows' wild spree as City nail last-ditch deal: PL Transfer Report Card
Late madness as $204m star rocks Utd in brutal twist; Reds' scary message: PL Wrap
Hat-tricks galore as Ange's Spurs and City hit five each in bonkers PL night: Wrap
After just four league games they are averaging more shots, more entrances into the box, more passes in the final third and more goals than they did last season.
With the departure of Harry Kane, who scored 43 per cent of the team's league goals last season, Postecoglou has clearly drilled passages of play and attacking movements in training.
The fifth goal summed it up perfectly – move the ball quickly and stretch the defence, before another incisive pass that had been used all match, getting behind the two centre-backs and turning them on their heels.
All Son had to do was put it in the back of the net.
A beaming Son himself said after the game: "He wants us to have the ball, to dominate the game and to play as high as possible in their half of the pitch.
"You can see on the pitch that everyone is playing with a joy and a happiness."
The happiness, the freedom of expression was shown in the way Spurs players moved both on and off the ball during the build-up to the goal, from taking on defenders to spinning on the ball in their own half. It's a happiness that has been sorely lacking in recent years.
Postecoglou was the last man on the field lapping up the applause – and the chants with his name included – from a buoyant bloc of Spurs fans.
BBC sport commentator John Bennett said: "The post match celebrations summed up the relationship that's developing between the Tottenham fans and Ange Postecoglou.
"He was last off the pitch to acknowledge the sustained applause from the away end. There was so much to admire about Spurs today but what stood out was the Son and Maddison partnership.
"They look like they've been playing together for years. Ange-ball continues to impress."
Asked about Spurs fans singing "We've got our Tottenham back," Postecoglou said after the game: "It means everything because it's their club. You want them to enjoy it. You want them to live that experience every matchday. It's why we do what we do. We've all experienced playing in empty stadiums before – it's literally an empty feeling.
"You do it for your supporters. Delighted they had a great day out today."
Spurs sit second in the league with three wins and a draw from their first four matches.