'I mean seriously': Ange Postecoglou's perfect reply after journalist's 'backhanded compliment'
Ange Postecoglou is used to it now, having arrived at Celtic as a relative unknown in the European game.
But even Postecoglou's success in Glasgow and positive start to his coaching career at Tottenham hasn't been quite enough to see the Australian viewed as a "big manager" just yet.
Speaking to reporters ahead of the transfer deadline and Tottenham's next Premier League game against Burnley, one reporter asked Postecoglou about the viral 'Angeball' chant and Robbie Williams' tribute to him.
The only problem? As Postecoglou put it, the reporter delivered "one of the most backhanded, underwhelming compliments" in the process. Oh, and he also asked if Postecoglou even knew who Williams was.
DEADLINE DAY WRAP: Ange's $93m deal as records tumble in epic transfer mayhem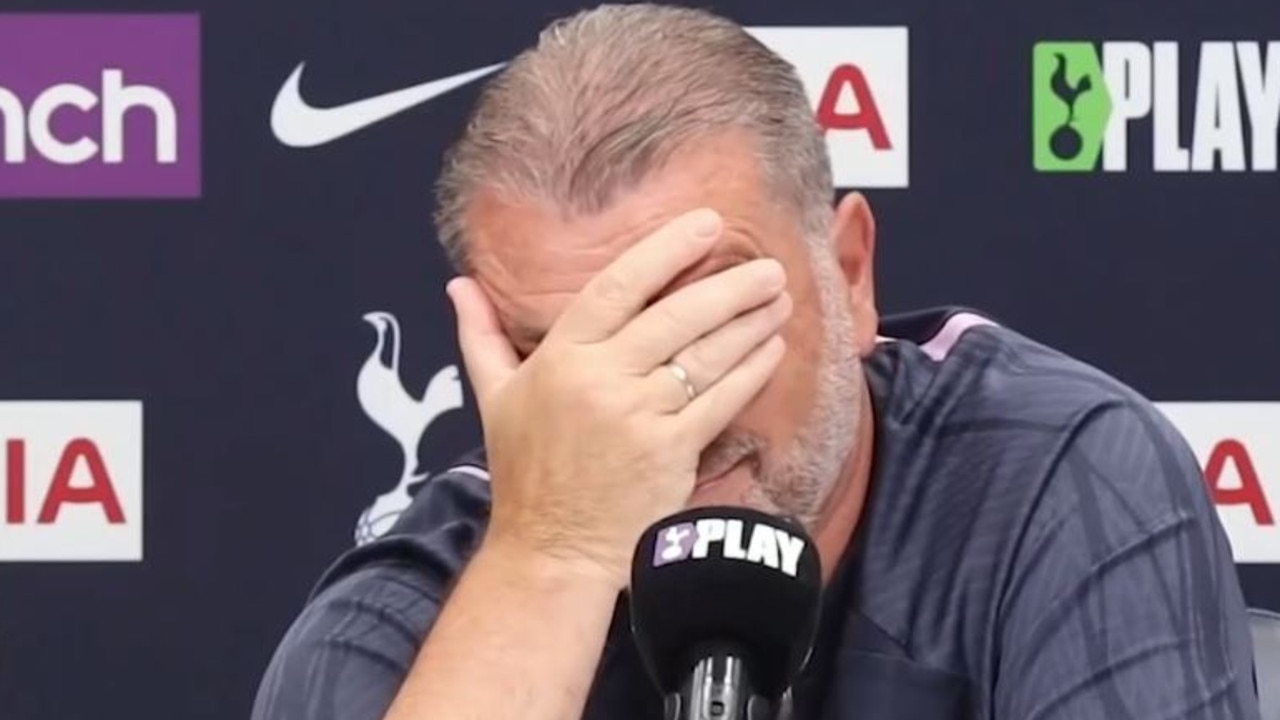 "This club have had some big managers, some historic managers down the years, but you've achieved something already that none of them have as none of them have had a pop song sung about them," the reporter opened.
"Firstly, do you know Robbie Williams, have you met him, and what did you think when you heard the lyrics had been changed to one of his most famous songs and he was singing it?"
Postecoglou's reaction before the question even finished said it all before the Australian delivered a hilarious response to the reporter.
"That's one of most backhanded underwhelming compliments I've ever had," he said.
"You've had some unbelievably fantastic managers, big names, successful… and then there's you Ange. And then have I ever heard of Robbie Williams? Where have I been living mate? I mean seriously.
"Look, I love Robbie Williams, I think he's brilliant, a great entertainer. He did the song, I think it came off the back of one of our supporters. Look it's great, the alternative is they make up songs about you that are less than complimentary.
"So I'll take it for what it is but yeah thanks mate. I'll just float out of here feeling good about myself."
Postecoglou will certainly be feeling good about himself after Tottenham successfully landed Brennan Johnson from Nottingham Forest in one of the major deadline day moves.
The Australian had previously said the priority for Tottenham would actually be trimming its playing squad, with Sergio Reguilon and Japhet Tanganga both exiting the team on loan.
Although speaking to media ahead of the deadline, Postecoglou had an interesting response when asked whether he was looking forward to having his squad finally settled.
Van Dijk CHARGED after foul-mouthed rant | 00:48
"To a certain extent, but I still like and anyone that knows me, knows I still like players being on edge," he said.
"I would hate for anyone to think, 'OK we've got through the window and I'm comfortable now,' because I certainly won't let anyone feel that way. We've still got a lot to achieve, a lot to work on and a lot to push each other on.
"The players, whatever group we settle on there will be competition within that and as we know between now and new year we have just got the league to concentrate on and every game will be important, so performance in every game will be important and I want competition for places.
"There will never be a feeling of comfort within the group, not from myself or anyone else. In terms of maybe the uncertainty over peoples futures, maybe that settles them but I won't allow anyone to think they are set for a couple of months and can sit back and relax. That is not the way I work. There will always be some edge around everything I do."