Cricketer Heath Streak has now passed away, wife confirms
Just over a week after false reports of his passing, Zimbabwean cricketing great Heath Streak has now died after a battle with cancer.
Streak's wife Nadine posted the news on Facebook that the 49-year-old had sadly lost his battle with colon and liver cancer.
Watch Australia's Tour of South Africa on Kayo Sports. Every T20 & ODI Live & On-Demand. Join Kayo now and start streaming instantly >
"In the early hours of this morning, Sunday, September 3rd, 2023, the greatest love of my life and father of my beautiful children, was carried to be with the angels from his home, where he wished to spend his last days surrounded by his family and closest loved ones," Nadine Streak wrote on Facebook.
The post was coupled with a number of photos of an almost unrecognisable Streak surrounded by his family.
"He was covered in love and peace and did not walk off the park alone.
"Our souls are joined for eternity, Streaky.
"Till I hold you again."
The terribly sad news come just over a week since a bizarre chapter when Streak's former Zimbabwean teammate, Henry Olonga, announced on social media the all-rounder had passed away in a now deleted tweet.
Olonga then followed that up by writing: "I can confirm that rumours of the demise of Heath Streak have been greatly exaggerated.
"I just heard from him. The third umpire has called him back. He is very much alive folks."
Streak emerged as one of the great cricket all-rounders of the 1990s and early 2000s.
He took a record 216 wickets and scored 1990 runs from 65 Test matches for Zimbabwe, adding 189 ODIs in an international career that spanned 1993 to 2005.
A number of people expressed their sadness in the news, including former Sri Lankan captain Sanath Jayasuriya.
"Very sad to hear the passing away of Heath Streak," he wrote. "Great cricketer wonderful human being. RIP."
Indian cricketers Gautam Gambhir and Suresh Raina also posted about Streak.
Olonga also posted another tweet on X, formerly Twitter, on Sunday, writing simply: "RIP Streaky."
There were some cruel replies to that post considering the saga that started on 23 August, including a number asking whether the news had been confirmed.
To one such question, Olonga replied: "His wife posted on Facebook. I was close enough to the family to know it was close.
"May explain why wires got crossed the first time.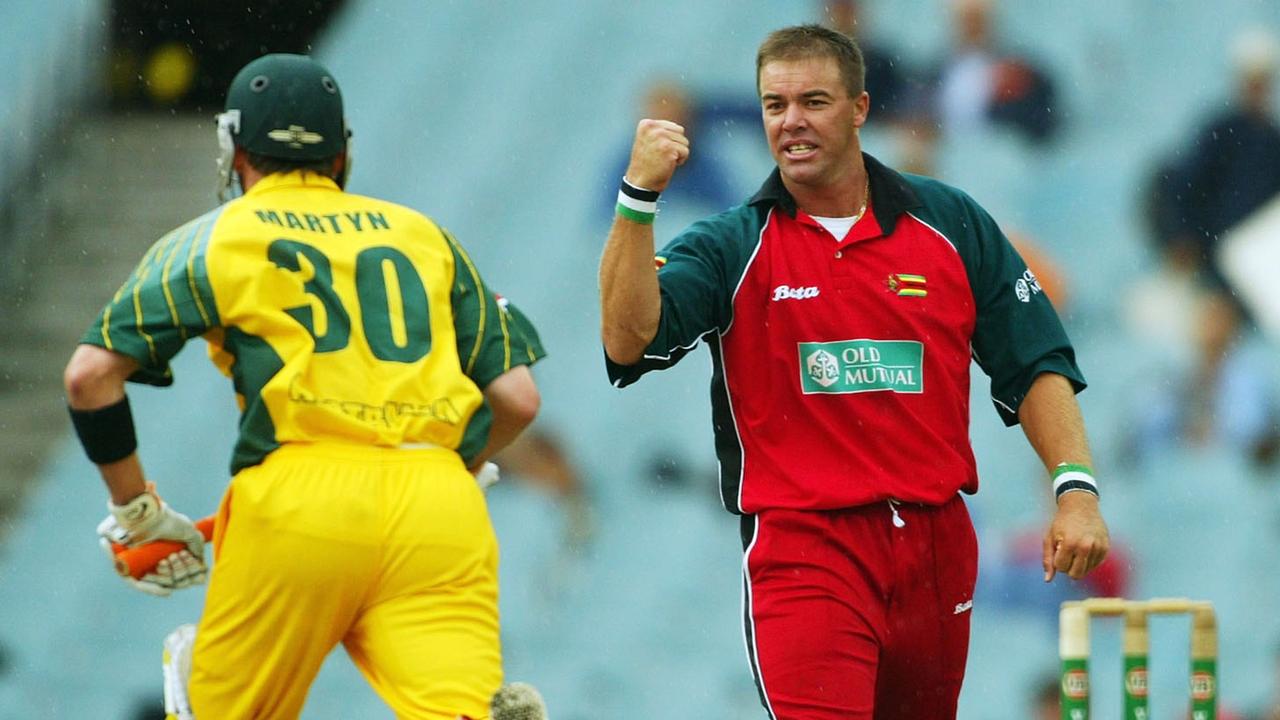 "Nothing malicious unlike what many in the world think.
"I mean they seriously think I would play games with something this serious."
In another reply to someone suggesting Olonga hadn't apologised, he replied kindly: "I very much apologised my friend even wrote about what happened.
"You do not know how it happened but I was told just like today by a source who got it wrong. And I very much got it wrong too.
"Heath was my friend. And no – now is a time for kindness not harshness."